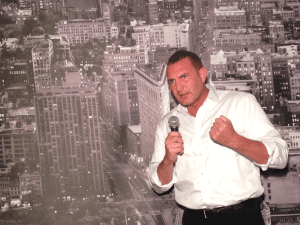 John Lepak is an award winning business strategist and a highly accomplished promoter/event coordinator in the business of professional boxing. He was a member of the promotional team for 6 of the top 10 highest grossing boxing promotions of all time.
After becoming a member of the original Kronk Boxing Gym in Detroit Michigan, a young Lepak was mentored by Hall Of Fame trainer Emanuel Steward where he assisted Steward in the training camps and promotions for legendary champions including Lennox Lewis, Julio Cesar Chavez and many more.  Lepak went on to serve as a promotional partner in over 200 boxing events including 17 promotions featuring the one time Baddest Man On The Planet, Iron Mike Tyson.  Armed with his experience in International business, Lepak went on to serve as the Director of Operations for Powerhouse Gyms International where he won numerous awards with his unique "boxing ideology based" approach to sales and management training, systems implementation and operations for over 300 locations in 20 countries.  Lepak's "Training Camp Solutions" program has provided immeasurable results to numerous top producing sales persons and teams for the largest gym licensing company in world and dozens of small to mid-sized companies in North America.
Lepak remains active in boxing circles where he is a highly acclaimed writer and contributor to Undisputed Champion Network for his series on the legendary Kronk Boxing Gym in Detroit Michigan.
Services Offered:  Boxing Ideology based Sales, Systems and Management Training.  Event/Convention Coordination.  Small to Medium size Business Turnaround Solutions.