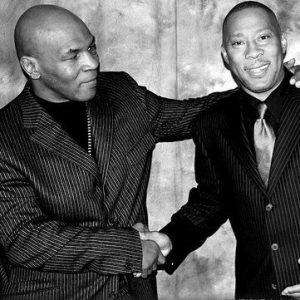 US Navy and Ironman Award
After graduating from High School in South Central, Los Angeles, Darryl joined the US Navy where he proudly served his country for four years. His leadership skills were recognized early on when he was selected as platoon leader where he carried the 'Platoon Flag' for the entire duration of basic training. Darryl recalls "Carrying the flag is a great honor and a respected tradition in the US Military and the 'Platoon Colors' cannot touch the ground at any time during boot camp, even while doing exercises such as push-ups."  Ironically enough it was during his time in the United States of Navy that Darryl won the prestigious 'Ironman Award'.
Darryl's years spent in the United States Navy taught him to learn and follow rules, regulations and also respect the chain of command. He served many details and although some information is classified, there is a great detail of security response to very delicate situations.
Detailing Business
Darryl then moved to Las Vegas where he opened only the third ever, mobile detailing business in all of Las Vegas. He handled several clients that were considered to be "players" on the Las Vegas circuit including boxing promoters Bob Arum (promoter of Muhammad Ali and so many other legendary boxers), Dan Goosen and Don King.
Mike Tyson
In one of the biggest media frenzies in sports history, Mike Tyson was about to make his much-appreciated return to the boxing ring after serving 3 years in prison. Although his better years were behind him, Mike Tyson's comeback transcended the sport of boxing as well as the entertainment industry.
On his first day working for Mike, Mike took immediate notice of the attention to detail and level of professionalism that Darryl provided, not only for him but also for all of his clients. It was not long before Mike asked Darryl if he would consider closing his company and coming to work for him full time.
It was then that Darryl got the nickname, "Rolls Royce" as he was always seen driving Mike around in one of his several Rolls Royce vehicles. Mike Tyson was the highest paid entertainer in the world and a star to the stars as "Team Tyson" reigned as the Kings of the Las Vegas strip.
In his 18 years spent working for Mike Tyson Darryl's resume cannot even touch the surface on countless scenarios, situations and duties those 18 years included. He was able to defuse situations when they arose as well as stop them ahead of time to avoid them. One of his many responsibilities was to work closely with the law enforcement upon arrival in both domestic and international locations for safety reasons.
Darryl was also not only in charge of Mike's logistics on a day to day basis but also coordinated his travel, both nationally and internationally. In the years following Mike's retirement, there was a period of close to five years where Darryl acted not only his personal assistant but also his full-time driver and personal security, both at his property and on his personal travels.
Omni Global Services
Today Darryl has set up Omni Global Services which is an umbrella global organization which delivers to the highest level and caters for the needs of individuals ranging from executive travel to customized jewelry covering all aspects related to the Las Vegas strip. This requires meticulous planning and organization to make the experience larger than life. Trust the process. The organization's commitment is to fully deliver at the highest level of expectations.